Urethane sander rollers are one of the high-quality products manufactured by Plan Tech, and we have them in different compositions and designs. Our urethane sander rollers give engineers and operators an impressively flexible sanding tool which makes it one of the best in the industry. The urethane sander rollers provide excellent resilience and the ability to resist cut and abrasion which also makes them stand out amongst others. At Plan Tech our urethane sander rollers can be designed and augmented with a wide range of accessories; it is equipped with a flexible sanding roller which allows you to work on a large number of different surfaces and materials. With our urethane sander rollers, you are sure to deliver the best results every time, even on heavily structured or irregular surfaces.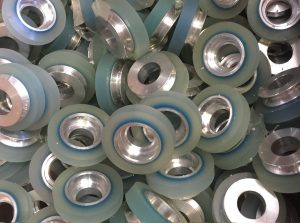 Our urethane sander rollers feature a superior compression and tear strength, it has good heat stability, hydrolytic stability, and it is oil and chemical resistant. The composition and design of our urethane sander rollers combined with a soft grip covering boast optimized handling and control. Now instead of many tools and painstaking work by hand, we can specially develop urethane sander rollers that meet your specification and application. Furthermore, our urethane sander rollers are well suited to sanding a wide range of workpieces, saving you time and painstaking hassle.
If you're specifying a new industrial wear part and are deciding between materials, here are some reasons why you should specify cast urethane sander rollers and custom urethane parts:
1. Urethane parts can be shaped accurately
No matter what shape you want your cast urethane parts to be, we can design them for your application by using extreme precision. We can create any custom cast urethane part that's up to 30 inches long with a tight tolerance of error in the process. You'll get a cast urethane part that is exactly as your project requires.
2. Several different finishing options to choose from
One important factor about cast urethane parts is that the composition of the parts can easily be manipulated. You can choose whether you want an end product that is rigid, flexible or something that is even similar to rubber with a gummy texture. Our cast urethane parts are even able to be customized by color and additional add-ons (cores/hardware). While black cast urethane parts are the norm, we can make them white, blue, yellow, safety orange, green, etc. Additionally, you can choose whether you want the finishing to be smooth, shiny, or even a custom finish.
No matter what your intended use is for the finished cast urethane parts, they are sure to make your projects a lot easier and that much more refined.
Please Contact us for further details about cast urethane parts!