Urethane Scraper Blades are large metal bars commonly coated with urethane to produce a soft blade to redirect product off a roller or to simply keep the roller clean while it process's material. Other types of urethane scraper blades are on a much smaller scale and can be easily cut at Plan Techs state of the art machine shop equipped with water jet cutting capabilities.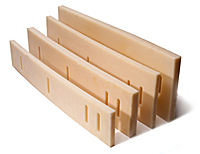 Any profile urethane scraper blades can be processed by either molding the large steel bar and finishing with light machining or be molding the scraper blade whole. The steel bar or "core" of the urethane scraper blades will enter our clean room where it will be greased and media blasted before a light coat of bonding adhesive is applied directly to the bar. Being able to process metal like this allows us to cast the urethane onto the core resulting in a urethane to metal bond unlike anything else. Similarly, ways of gluing the urethane to a bar may result in delamination and down time to the end user which can cost thousands of dollars.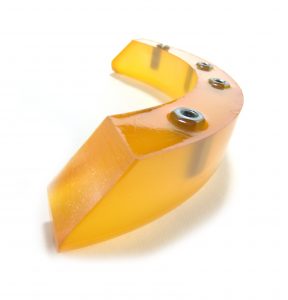 Any hardness or angle urethane scraper blades can be achieved at Plan Tech. OEM replacements or custom blades for any application will go through Plan Tech's team of engineers to ensure quality material is the choice for the application. Urethane is a great choice of material when searching for a custom or OEM scraper blades as urethane does very well against abrasion resulting in a long service life no matter what the conditions are. We also stock many different additives to enhance abrasion resistance while adding lubricity to the urethane material to help keep debris from sticking to the urethane scraper blades.
Our engineering department can turn your idea, sketch, drawing or CAD file into urethane scraper blades. We will reverse engineer to recreate any urethane part for production or one-off urethane pieces. The engineering department utilizes SolidWorks and our machine shop uses CamWorks for 3 axis milling. Our equipment includes CNC mills, lathes, polyurethane grinders as well as a state of the art urethane waterjet cutting machine.
Please Contact us for further details or to answer your questions regarding scraper blades.