Urethane screen deck parts are interchangeable and easy to replace deck parts that are useful for many industries. The product is mostly popular for its amazing performance and also for the many other features. Urethane screen deck parts give the perfect amount of tensile strength and elongation. Also, when it comes to durability, the product lasts for a very long time. Hence, as a result, the product has its own popularity.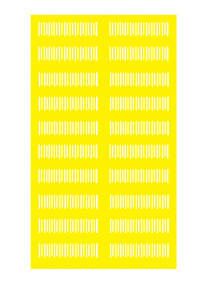 To increase productivity and also save a lot of time. Our machine makes sure that all of the urethane screen deck parts that are manufactured are hard and have enough amount of tensile strength. Moreover, we also check and test a lot when it comes to the elongation of the product. You as our customer can surely decide and specify the size and the range. We have many options which are suitable for all your needs. Depending on your requirements, you can directly choose one. All the products that we make are durable and are also affordable. Therefore, you will spend a very little amount of money and get the best product.
When it comes to the overall features, Urethane screen deck parts offer ease of usage. You can easily interchange or even replace any of the deck parts in a very less amount of time. Another reason why our product is best is when it comes to panel designs. We offer many designs that will suit all your requirements. Plan Tech has an expert team monitoring on the deck parts to make sure that everything goes fine. Depending on the customer's need, we can also create custom Urethane screen deck parts for you. For that, you can contact us with all your requirements and we will tell you what we can do to make it.
We use special custom urethane to create deck parts. When it comes to the quality of the material and the final product, you don't have to worry about anything. Moreover, all the deck parts are directly manufactured at first. It means there is no modification done at first when creating it. Once everything is crafted, we add the screen. So, if you are looking for some variation on the screen or on the cover, you can surely tell us in advance and we can do it for you. Any kind of screen such as rotary, linear, static, etc can be fitted. Just tell us about the design and your other requirements. We will handle the rest.
If you require something more that is not mentioned here, feel free to contact us with your complete requirements. Also, please inform us about the design and the shape you are looking for. Also, include any other information that you think is necessary. In this way, we will be able to give you a perfect quote for your order. All the deck parts are made with perfect quality and in less amount of time.
Are you interested in Urethane Screen Deck Parts? Please Contact us so we can help solve your requirements and work with you on your specific application!