Urethane shafted rollers manufactured by Plan Tech are achieved through a rigorous process which distinguishes our urethane shafted rollers in the industrial marketplace. Urethane is used in the production of urethane shafted rollers because of its ability to withstand a larger variety of chemicals and temperatures. Our team of engineers are qualified with over 30 years of experience in the industry.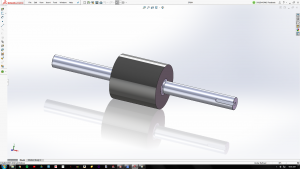 To order for your custom made urethane shafted rollers Plan Tech will require the following information which includes:
Diameter of the urethane shafted roller
Durometer of urethane shafted rollers
Shaft size and configuration
Load and speed
Gravity or powered (if grooves, sprockets, smooth)
Environment
Square finish – As sanded (matte) or As cast (smooth)
Roller length (Inside frame distance, overall roller length)
Plan Tech also takes into consideration the kind of specialized shaft you need. Such consideration includes:
The type of shaft materials (carbon steel, stainless steel , nickel or zinc)
Shaft extensions
Springs
Shaft end options (drilled holes, threaded ends, internal metal shaft, D-Shaft ends, plastic flat caps)
Shaft configurations (Hex or Round)
Our process of producing urethane rollers at Plan Tech ensures you get the best equipment/ machinery for your use while being economical. Please contact us for more information concerning the production of urethane shaft rollers. Cast urethane parts aren't just useful for the largest fortune 500 industrial companies in the world – they're also incredibly useful and widely used by the typical small businesses and startups alike. If you are considering investing in urethane parts for your business, there a couple of key reasons why cast urethane parts can really benefit your business and contribute to making your production as efficient as possible.
One important factor about urethane shafted rollers and cast polyurethane parts is that the composition of the parts can easily be manipulated. You can choose whether you want an end product that is rigid, flexible or something that is even similar to rubber with a gummy texture. Our cast urethane parts are even able to be customized by color and additional add-ons (cores/hardware). While black cast urethane parts are the norm, we can make them white, blue, yellow, safety orange, green, etc. Additionally, you can choose whether you want the finishing to be smooth, shiny, or even a custom finish.
Please Contact us for further details about cast urethane shafted rollers!