Urethane sheaves pulleys are frequently used to protect steel cables for lifting applications. Urethane has a great ability to absorb vibration for a smooth and quiet operation. Urethane sheaves pulleys are commonly found in elevators and amusement park rides. Plan Tech specializes in custom urethane sheaves and pulleys for any environment.
Urethane will have an extended service vs. similar material even underwater and outside conditions are no problem for Plan Techs high-performance material. Any wire or cable size cable can be machine profiled into urethane sheaves and pulleys making replacement parts easy. Most Urethane sheaves and pulleys will have a steel core or can be completely cast from urethane for low-cost replacement parts.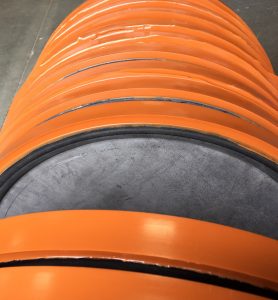 From prototype pieces to high volume Plan Tech will design tooling around production needs and can incorporate any company logo or part numbers may also be molded into urethane sheaves pulleys. Urethane is also chemical resistance to most commercially used chemicals and has a recommended temperature range from -20 to 170F. At Plan Tech we can produce Urethane sheaves and pulleys up to 12'' Diameter with a turned or ground finish for any hardness coating.  Solid cast Urethane sheaves and pulleys can be up to 48'' diameter!
Whether you are a start-up company or global leader, we can add value to your products with our strong engineering support, urethane polymer experience and constant focus on meeting all delivery requirements. Our rapid prototyping capabilities have also received particularly positive feedback – we frequently go from "Print to Part" in 10-15 business days! Everything we manufacture is MADE IN THE USA. Plan Tech also has an outstanding team of dedicated employees with exceptional talents designing and manufacturing cast urethane sheaves and pulleys. We also are very proud of the "company we keep." Our customers include many Fortune 500 companies, most of whom have been customers for 20+ years. Their drive to become industry leaders has helped us do the same.
Please Contact us so we can discuss your Custom Polyurethane Sheaves and Pulleys application!