Urethane Shock Bushings manufactured at our ultra-modern in-house machine shop are made from world-class materials purchased from globally renowned chemical producers. Our urethane shock bushings eliminate noise, give tight tolerances, and offers exceptional vibration damping qualities.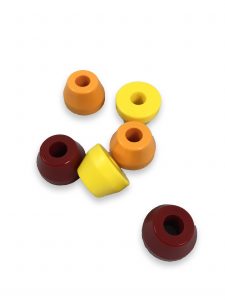 With our urethane shock bushings, you are guaranteed of enhanced wear property, remarkable chemical and corrosive resistance ability, high impact strength, quiet operation, and long service life. Also, our polyurethane shock absorbers offer an outstanding ability to withstand harsh environments, whether hot or cold.
No matter the profile or design you require; you can trust our team of technicians to meet your demands. These are highly skilled professionals who are among the best in the industry, and they guarantee exceptional durability for our polyurethane shock bushings.
Being one of the pioneers in the manufacturing of rubber shock bushings, our products are of premium quality, and we utilize speed and precision in order to maintain consistency. Therefore, you can rely on our rubber shock absorbers for not only the high-performance ability but also for its long service life.
Over the years, we have become very specialized in producing top-rated urethane shock bushings, and hence, we are capable of meeting your requirements no matter the specification and application. Plan Tech strives to use the latest in design software technology for the designing of complex urethane molds. We utilize SolidWorks to design all of our open face and compression molds per customer specifications. When we have completed our design that has been approved by the customer we machine them using CAMWorks at our in-house machine shop. This creates a faster "concept to production" environment to produce superior parts for our customers. Below is a list of the software used for designing urethane molds:
AutoCAD: AutoCAD is a commercial computer-aided design (CAD) and drafting software application. AutoCAD is used across a wide range of industries, by architects, project managers, engineers, graphic designers, and any other professionals. AutoCAD permits designers to draw 3D objects, such as molds, and machinery, with more intelligent data associated with them rather than simple objects, such as lines and circles.
Are you interested in Urethane Shock Bushings? Please Contact us so we can help solve your requirements and work with you on your specific application!