Urethane spacers are commonly found in hardware stores in nominal sizes, Plan Tech specializes in high volume urethane spacers of any size for any high abuse applications. Custom sizes and shapes are no problem for Plan Tech's in-house mold making fabrication and machine shop.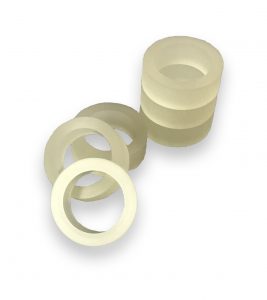 Urethane spacers are used in a variety of different applications, most to isolate vibrations from the connecting parts. Cast from hard or soft urethane or anything in between Plan Tech will engineer the urethane spacers with you on every detail. Custom one-off urethanes spacers are our specialize or we can reverse engineer an existing part. By working directly with the customer allows us to produce parts often times for a lot less than OEM replacements.
Plan Tech also selects the highest-quality urethane material from world leading chemical companies to ensure the quality of our parts meets or exceeds the OEM parts. Plan Tech also offers a variety of additives for unique applications where abrasion might be a factor. We stock an additive called armorglide that will increase the lubricity of the urethane spacers just like UHMW with the increased physical properties of urethane.  FDA requirements are also no problem for Plan Tech. Simple combination of OD, ID urethane spacers up to 4.25'' OD can be produced with little or no tooling start up cost!
We mold custom urethane spacers with open cast molding which is the simplest and most common molding method for thermoset polyurethanes. Some Advantages: Since pressures and temperatures in the molding process are relatively low (ambient pressure and temps below 250F), the molds are more cost effective and can be made from a variety of materials including polyurethane. Open cast molding urethane parts is good for parts with relatively open tolerances on one surface. If tolerances are tighter, a secondary finishing operation is an option.
We also compression mold urethane products where the part is split on a parting line, the halves are filled and the material is allowed to gel. The mold is then closed and placed into a compression press. Some Advantages: Compression molding yields a finished part with detail on all sides. Molds can be more expensive than those used in open casting or transfer, but parts can be quite detailed and elaborate.
Please Contact us for further details regarding manufacturing custom urethane spacers!