Urethane spherical bushings are found in many applications requiring repeated abuse and impact. Urethane spherical bushings will dampen the harsh slamming of a machine and hold up often times better than OEM replacements at a fraction of the cost.  At Plan Tech our custom cast urethane spherical bushings capabilities are from .75"-18" and are molded from typically from solid urethane with a thru hole that will be fastened to the application.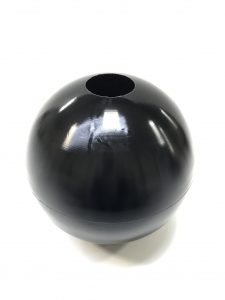 Some common advantages of polyurethane spherical bushings are that they provide outstanding chemical resistance and are also non-marking with a noticeable noise reduction vs other similar materials. Polyurethane spherical bushings have great abrasion resistance and excellent load bearing performance. We can also fabricate custom cores that may be molded inside the spherical bushings. This will add extra strength to the bushing and makes it easy to bolt on existing equipment. We can come up with any custom profile required for your application.
Most custom urethane spherical bushings are made with compression style of molding that will yield parts complete with little to none secondary operations for the finished part often times costing less than OEM replacement rubbers while exceeding the physical properties of the original parts. Urethane spherical bushings often times are supplied in a 60A-80A duro with a variety of additives can be added to enhance wear properties, add lubricity, UV stabilized, flame retardant, or to reduce static build up.
Whether you are a start-up company or global leader, we can add value to your products with our strong engineering support, material selection expertise and constant focus on meeting all delivery requirements. Our rapid prototyping capabilities have also received particularly positive feedback. We frequently go from "Print to Part" in 10-15 business days. This capability allows our customers to rapidly develop new products and meet the ever-increasing requirements for speed in the marketplace.
Please Contact us for further information regarding custom cast urethane spherical bushings!