Urethane spray deflectors cast at Plan Tech are designed for easy installation, maintenance friendly, and made to exceed your expectations at an economical cost. To ensure we do not compromise quality for quantity and vice-versa, our engineering team who rank among the industry's finest always apply speed and precision during the production of our urethane spray deflectors.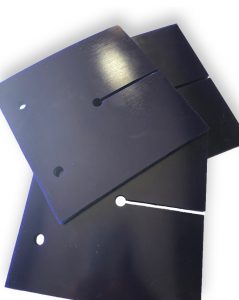 Urethane spray deflectors manufactured by Plan Tech on spray bars can significantly improve screen efficiency and material-washing performance. Plan Tech urethane spray deflectors are formulated for high abrasion applications with hardware that stands up to wet conditions.
Plan Tech 's spray deflectors will outlast plastic or other materials on the market. This is because its parts are specially formulated for high abrasion applications.
Benefits of Plan Tech Rubber Spray Deflectors
Plan Tech's spray deflectors spread water over a larger area which in turn improves wash efficiency while minimizing water use and plumbing requirements.
Poly spray deflectors are available to fit 1-1/2- and 2-inch spray bars.
With Plan Tech rubber spray deflectors you're sure to have elongated screen life. As our urethane spray deflectors spread stream impact across the screen, this will help prolong the life of costly screen media.
Our spray deflectors are cost-effective as they've been proven to outlast plastic or brass nozzles.
Installation of our spray deflectors is very easy.
Polyurethane is a name synonymous with versatility. The mechanical properties of polyurethane unique elastomer can be manipulated and separated through polymeric creativity making problem-solving easy with a high-performance ability that is second to none. The benefits and advantages of this material are limitless.
Below are some of the benefits and advantages of polyurethane:
Filling the Gap Between Rubber and Plastic
Polyurethanes are outstandingly able to withstand more loads than rubber because they are harder than rubber and yet more flexible than plastics. Their flexibility is accountable for their strength and remarkable ability to resist impact.
Abrasion Resistance
Polyurethanes are the perfect choice for applications against severe wear regardless of low temperature. For some decades now, they have been the most used materials for environments that are highly abrasive owing to their super ability to resist abrasion. No other form of elastomers, metals, and plastics has a better abrasion resistance than polyurethanes. Their abrasion resistance ability is rated to be 10 times better than what other materials can provide.
Are you interested in cast Urethane Spray Deflectors? Please Contact us so we can help solve your requirements and work with you on your specific application!