Urethane stop blocks are designed to absorb an impact and stop a cable or chain in the desired location. Urethane is an ideal choice of material as it will return to its original size even after years of abuse in any working environment. Molded urethane stop blocks and parts are designed by our engineers from our in-house machine shop from an AutoCAD. We apply different molding design operations utilizing compression molding and rotational force for the manufacture of our molded polyurethane parts.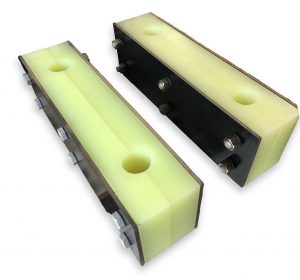 Opencast molds are the most common and are typically made from aluminum that consists of many pieces and parts; this ensures the finished product, are high performance and tight tolerance molded polyurethane parts. Urethane stop blocks do not need to have a set "block" profile as well. Any custom profile to fit the application can be molded at a rapid fast for high volume at Plan Tech. We stock a large variety of special additives which we add to improve the physical properties of our molded urethane stop blocks and custom parts. All of our molded urethane stop blocks and custom polyurethane parts possess the ability to return to their original shape after absorbing high impact, and they retain this ability even after they have repeatedly been abused for years.
Whether you are a start-up company or global leader, we can add value to your urethane stop blocks and custom products with our strong engineering support, urethane polymer experience and constant focus on meeting all delivery requirements. Our rapid prototyping capabilities have also received particularly positive feedback – we frequently go from "Print to Part" in 10-15 business days! Everything we manufacture is MADE IN THE USA! We also are very proud of the "company we keep." Our customers include many Fortune 500 companies, most of whom have been customers for 20+ years. Their drive to become industry leaders has helped us do the same.
Please Contact us for further details or to answer your questions about cast urethane stop blocks!