Urethane suspension parts produced by Plan Tech are made from 100 percent pure urethane. Plan Tech has a team of experienced engineers that incorporate a unique urethane formula to manufacture urethane suspension parts that guarantee years of long-lasting operation. We manufacture quality suspension parts from urethane. These urethane suspension parts make your vehicle perform better and increase its lifespan.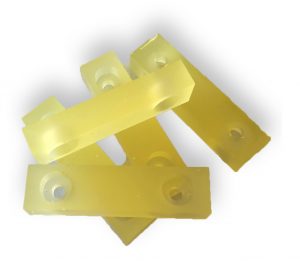 With over 30 years of experience in the production of molded suspension parts and other urethane related products, our teams are made up of innovative and dedicated professionals whose motivation is based on high positive customer service and quality delivery. We offer quality, durable and top of the line urethane suspension parts for vehicles, automobiles, etc. The polyurethane suspension parts help to increase the performance of cars and heavy-duty trucks.
It helps to make perfect connections between the different parts of your suspension. The poly suspension part is preferred over the rubber because of its high resistance to common road contaminants. More so, the suspension parts produced by Plan Tech are high in mechanical strength and can withstand a high amount of heat (heat resistance).
Plan Tech is committed to manufacturing suspension parts from superior high quality. We ensure that our polyurethane suspension parts are made to last even after many years of usage. Plan Tech a leader in cast urethane manufacturing, process's urethane additives from the world's leading chemical companies. Whether its enhanced lubricity for high abrasion resistance applications or for anti-static wheels for shoppers who don't want to be zapped touching a metal cart. Having more than 30 years experience in the polyurethane industry provides Plan Tech the specific knowledge of incorporating polyurethane additives:
High Durometer Urethane Additives:  Air Products Founded in 1940 provides world-leading food curative that can be used in the manufacture of polyurethane elastomers intended to contact dry food. Air Products has built a reputation for its innovative culture, operational excellence.
Are you interested in cast Urethane Suspension Parts? Please Contact us so we can help solve your requirements and work with you on your specific application!