Urethane tapered rollers are custom cast and turned to any profile which typically consists of a steel or stainless shaft as a core for high strength applications. Plan Tech supplies thousands of urethane tapered rollers around the world each year for many different types of applications. Most commonly we find our urethane tapered rollers are used in a set of three as a pinch roller to drive product down an assembly line such as paper bags or other processing equipment.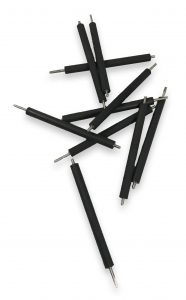 Plan Tech is able to hold extremely tight tolerances due to specialized equipment – we have a custom built machine to grind urethane tapered rollers to match any profile needed. Custom cast in lay down molds allows Plan Tech to chemically apply bonding agent directly to steel core for a urethane to steel bond with a greater tear strength than the urethane material itself. Each roller will be then cast oversized turned at our state of art specialized urethane machine shop.
We can easily process urethane tapered rollers up to 4' feet long and 12'' diameter with tight tolerances available. Plan Tech also has several different additives for urethane including our most popular antistatic additive for our urethane rollers. For industrial applications, Armorglide adds lubricity to each roller for easy cleaning and to protect the producing it will be processing.
Our machine shop includes CNC Lathes, Mills and Grinders for machining cast urethane parts. We also have manual mills as well as a sheet metal and welding area. In addition, we have a Flow Waterjet with 48×96 inch sheet capabilities and can cut a list of materials like Polyurethane, Steel, Stainless Steel, Aluminum, Carbon fiber, and most plastics. We create complex molds for our in-house use as well as many of the components that are molded into customer products. Molds are machined from aluminum or tool steel depending upon tool life requirements. The inserts and cores that we manufacture are made from a wide variety of metals and plastics including UHMW PE, ABS, aluminum and steel.
Please Contact us for further details regarding urethane tapered rollers!