Urethane tires are a found in many different high abuse applications requiring a material that will our perform rubber in any weather condition. Urethane is custom cast into any shape and then machined to any profile. Most commonly urethane tires are found in robots and other automated equipment.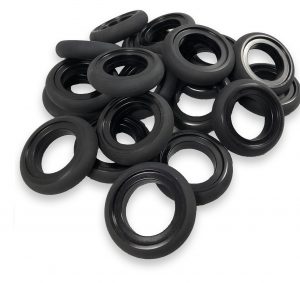 Plan Tech can produce any hardness or color urethane tire with a variety of additives to enhance different desired physical properties. Plan Tech can also produce custom cores or "rims" for the tires to be mounted to. At Plan Tech urethane tires are produced in high volume using compression molding to yield a tire with little to no machine work for a low-cost high-performance tire. High volume urethane tires of all sizes can be produced at Plan Tech with little to no start-up cost. Some urethane tires are bonded directly to the core or "rim", We can strip off any previous coating and recondition the existing cores to help lower cost and lead time for new cores.
Urethane tires are one of our numerous signature polyurethane parts that we manufacture. Like all of other urethane parts or products, our utilization of high-quality materials from globally renowned producers in manufacturing our urethane coated wheels is one of the reasons they are rated among best wheels in the world. Specialized polyurethane tires are produced with our in-house machine shop which is fully equipped machinery that is of an unbeatable customized standard.
Plan Tech also has an outstanding team of dedicated employees with exceptional talents designing and manufacturing custom urethane tires. We also are very proud of the "company we keep." Our customers include many Fortune 500 companies, most of whom have been customers for 20+ years. Their drive to become industry leaders has helped us do the same. Whether you are a start-up company or global leader, we can add value to your products with our strong engineering support, polyurethane experience and constant focus on meeting all delivery requirements. Our rapid prototyping capabilities have also received particularly positive feedback – we frequently go from "Print to Part" in 10-15 business days!
Please Contact us for further details regarding urethane tires!