Urethane track wheels manufactured at our state of the art in-house machine shop are made from world-class polyurethane materials. Plan Tech's urethane track wheels are molded to an extra-hard urethane center and as such supplies the necessary core strength. Unlike "mechanically bonded" urethane track wheels, our state-of-the-art chemical bond will not stretch or tear.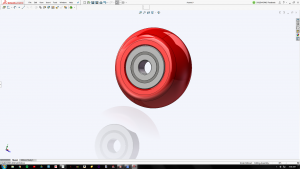 Plan Tech has been in the forefront of the urethane industry since its establishment 30 years ago. We have decades of hands-on experience in urethane track wheels and other polyurethane technology. That means we are a great choice for you to establish a long-term cooperation with us for manufacturing urethane track wheels. We have our team of engineers who develop the urethane track wheels using advanced technology and as per the requirements of our customers. These are made with international quality standards. They can be designed for a variety of applications having features like quietness, corrosion resistance, cut and abrasion resistance, non-sparking, resistance to corrosion, and can also handle a lot of capacity. Furthermore, we can provide top service for developing new and customized products, according to customer's requests. We have a fantastic team of dedicated, experienced chemists, engineers and sales personnel for technology service to prototype new products.
If you're specifying a new industrial wear part and are deciding between materials, here are some reasons why you should specify urethane track wheels and custom cast polyurethane parts:
1. Urethane parts can be shaped accurately
No matter what shape you want your cast urethane parts to be, we can design them for your application by using extreme precision. We can create any custom cast urethane part that's up to 30 inches long with a tight tolerance of error in the process. You'll get a cast urethane part that is exactly as your project requires.
2. Urethane parts can be produced at a fast speed
Most custom cast urethane parts can be molded and shipped within just a couple of weeks. Oftentimes, they can arrive much faster. Producing urethane parts is pretty straightforward and can be done on a short timeline. If lead times are important, consider specifying cast urethane parts.
Custom made cast urethane parts are the way to go – no matter if you're an established business or somebody starting out.
Please Contact us for further details about cast urethane track wheels!