Urethane tube stock from cast high-quality machinable polyurethane material suited to fit any applications is available at Plan Tech. We supply urethane tube stock up to 48 inches tall and available in most common nominal OD & ID sizes with a tolerance of +/-.030. Each urethane tube is hand cast allowing us to tailor our urethane material to add lubricity or an anti-static urethane for rolling applications.
Custom urethane tubes are available on request in durometers from 20A to 70D. All standard colors are stock in-house including OSHA approved safety orange. Urethane tube stock reduces OEM product due to easily being made into thousands of different parts, from sealing gaskets to special urethane washers for electric motors. Urethane tube stock has superior cut and abrasion resistance with the ability to self-heal in can be formulated for high or low rebound. Urethane performs excellent in outdoor applications with UV protection against aging.
Urethane tube stock is lightweight and has outstanding low-temperature properties making urethane a clear choice other similar material. At Plan Tech we have an Armorglide additive that has similar properties to UHMW, A huge benefit is that urethane tube stock can be cast to almost any OD ID combination.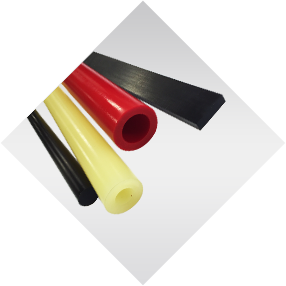 Plan Tech also has an outstanding team of dedicated employees with exceptional talents designing and manufacturing urethane molded parts. We also are very proud of the "company we keep." Our customers include many Fortune 500 companies, most of whom have been customers for 20+ years. Their drive to become industry leaders has helped us do the same.
Whether you are a start up company or global leader, we can add value to your products with our strong engineering support, urethane polymer experience and constant focus on meeting all delivery requirements. Our rapid prototyping capabilities have also received particularly positive feedback – we frequently go from "Print to Part" in 10-15 business days! Everything we manufacture is MADE IN THE USA.
Please Contact us so we can discuss your Custom urethane tube stock application!