Urethane u-cup seals are primarily designed for both dynamic and static applications. At Plan Tech, our urethane u-cup seals have been modified over the years to create several unique configurations that help energize the sealing lips of diverse applications even when their pressure increases. Urethane u-cup seals manufactured by Plan Tech provide additional benefits in hydraulic cylinders for piston or rod applications, they possess superior anti-extrusion characteristics, exhibit excellent sealability and provide the amount of pressure necessary for the hydraulic and pneumatic power systems to work perfectly.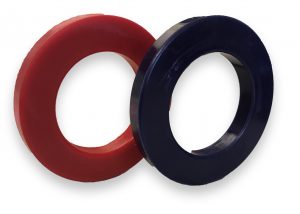 Being the number one choice of many construction and off-road vehicles that rely greatly on hydraulic and/or pneumatic power our urethane u-cup seals are designed to work effectively in almost every application. They are molded to tight tolerances and built to withstand extreme conditions while maintaining the flexibility needed to seal even in the most demanding industrial applications. This sealing lip does not just provide a seal capable of compensating for movement in dynamic application; it also provides its own compressive sealing force. The breadth of our in-house capabilities makes it possible for us to cast, machine and produce large volumes of urethane u-cup seals on time and with high-quality formulation.
For over 30 years we have focused on using speed and precision to manufacture the highest quality industrial cast polyurethane parts to our customers. A particular strength is the breadth of our in-house capabilities such as grinding urethane parts which, when combined with our extensive experience, enables us to deliver tight tolerance custom molded urethane parts while maintaining the quality control and cost effectiveness our customers require. The tests are performed according to an established set of standards provided by an accredited testing organization such as the Society for Testing and Materials (ASTM) who define the procedures in detail.
Please Contact us for further details regarding urethane u-cup seals!