Urethane union thread protectors are cast at Plan Tech with the best of urethane materials that are available in the industry. Aside from using the best in class materials, we also utilize some of the most sophisticated machinery you will find across the whole United States for the casting of our urethane union thread protectors. Over the past three decades, we have consistently produce urethane union thread protectors that rank among the best the industry has to offer.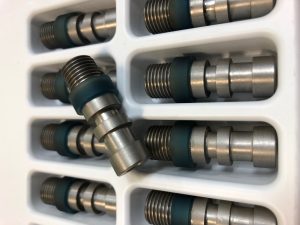 Our consistency in quality which has made Plan Tech one of the biggest suppliers of polyurethane union thread protectors in the industry. This has been due to our application of speed and precision during production. As a result of our application of listening to the customer, we have regularly been able to meet the qualitative and quantitative demands of numerous customers worldwide.
Although the products are available in a variety of configurations, each dimension boasts exceptional physical properties that enable them to excellently protect that valuable piece of capital equipment or item from downtime and damage. Our team of engineers who are among the industries finest is capable of casting rubber union thread protectors to meet the requirements of any application. Whether you are a start up company or global leader, we can add value to your products with our strong engineering support, urethane polymer experience and constant focus on meeting all delivery requirements. Our rapid prototyping capabilities have also received particularly positive feedback – we frequently go from "Print to Part" in 10-15 business days! Everything we manufacture is MADE IN THE USA and our production capabilities include:
Automated adhesive application for high strength urethane bonding to metal and non-metallic substrates
Open cast, rotational, compression and liquid injection molding
High speed automated and manual finishing equipment
Post-secondary assembly
World class metal preparation
On-site testing
Full in-house machine shop with multiple CNC mills, lathes, grinders, welding and sheet metal fabrication
Are you interested in cast Urethane Union Thread Protectors? Please Contact us so we can help solve your requirements and work with you on your specific application!