Urethane vibration pads are manufactured to provide a high-quality vibration protection on delicate parts or machines. Plan Tech's urethane vibration pads are proven for their outstanding properties for tough applications. The urethane vibration pads are available with a tolerance of +/-.010 ideal for customers that will machine parts from the urethane sheet.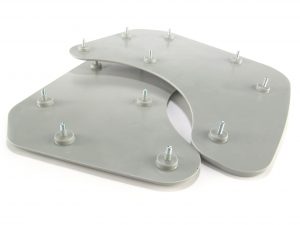 Urethane Absorbing & Isolating Pads are ideal for customers performing a secondary process to produce the final part.  A urethane sheet is perfect for producing inexpensive parts with a set thickness vs. tradition methods of making tooling for each part desired. A tolerance of +/-.030 on any sheet up to 4 feet by 4 feet is standard for us at Plan Tech. We also offer precision urethane vibration pads which hold a tight tolerance of +/-.010 and are available in one size 20'' x 70'' with thickness as small as 1/32'' up to ½''.
Urethane vibration pads are perfect for customers requiring tight tolerance on smaller parts. Utilizing our WaterJet machine we can cut precision parts for the most demanding applications. Urethane vibration pads or commonly referred to as urethane sheet have the ability to absorb and distribute vibration a with any size load placed onto the urethane vibration pad.  Urethane does well in environments contaminated with oil, water or solvents. Anti-vibration urethane pads are used in various industrial applications.
There are so many possibilities; Cast urethanes with fabric reinforcement, bonded metallic layers or UHMW. Waterjet cut urethane parts can make quick work of the dissimilar materials that make conventional machining difficult if not impossible. For example, rigid soft durometers with reduced elongation and greater tensile strengths or metallic parts with integrated vibration damping or high rebound properties. Waterjet is not the only way to cut urethanes, but it is the best way that we have found!
Please Contact us for further details regarding custom urethane pads!