Urethane wedges manufactured by us are made from top-grade urethane materials from globally renowned chemical producers. Plan Tech's urethane wedges are known for its unparalleled quality and impact resistance. They offer a long service life, having strong abrasion and wear resistance. Our ability to tailor our proprietary polyurethane formula to any required color or hardness suitable for a particular application stands us apart in the industry.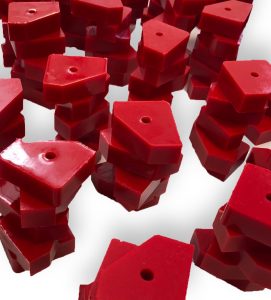 As leaders in the industry known for producing world-class products, we only utilize first-grade polyurethane from world-renowned polyurethane producers, and that enables us to manufacture a variety of top-quality urethane molded parts like our urethane wedges. Be it from a simple sketch or an existing part, our team of designers will work with you like an extended arm of your workforce on every detail of your urethane wedges.
Like all of our other urethane parts, we apply speed and precision for the production of our urethane wedges which allow us to meet the high-volume demand of our numerous customers without compromising quality. Having over 30 years of experience in manufacturing urethane parts, we've reached a particular level of excellence, and with the exceptional technical expertise of our team of engineers, you can count on us to meet the requirement of your urethane wedge demand. Plan Tech strives to use the latest in design software technology for the designing of complex urethane molds. We utilize SolidWorks to design all of our open face and compression molds per customer specifications. When we have completed our design that has been approved by the customer we machine them using CAMWorks at our in-house machine shop. This creates a faster "concept to production" environment to produce superior parts for our customers. Below is a list of the software used for designing urethane molds:
CAMWorks: CAMWorks is the most advanced CAM software available and is fully integrated inside SolidWorks. In CAMWorks the design and manufacturing model become one-and-the-same. Any changes to the design are automatically updated in the machining operations and tool paths, thereby eliminating the need to constantly reprogram parts due to design changes.
Are you interested in cast Urethane Wedges? Please Contact us so we can help solve your requirements and work with you on your specific application!