Urethane wheelchair wheels are renowned for providing durability and low maintenance. While pneumatic tires are said to have some operational advantages over airless wheelchair tires, our urethane wheelchair wheels have over the years made great steps toward reducing the performance gap between pneumatic and airless tires. While urethane wheelchair wheels are fully puncture-proof, they tend to weigh much more than pneumatic tires. But here's the good news, our urethane wheelchair wheels are made with the new high-density urethane materials. Our team of in-house precision engineering unit uses a combination of technology, design, and compounding to create urethane wheelchair wheels that perform well in almost all types of terrain.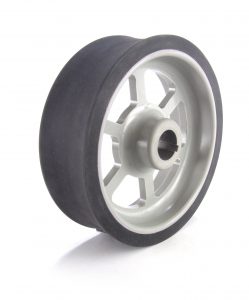 With this, our urethane wheelchair wheels feature some fantastic qualities, making it one of the best in the industry. They are smoother, lightly treaded, have better traction and has an impressive ease of mobility. Also, shock is distributed throughout the tire as if it was almost air. Our urethane wheelchair wheel eliminates installation headaches and saves you time and money. They allow for a slight compression when going over uneven surfaces, making them the best urethane wheelchair wheels for comfort, rolling resistance and a better experience for wheelchair user's independence.
Below are some of the benefits and advantages of urethane wheelchair wheels:
Filling the Gap Between Rubber and Plastic
Polyurethanes are outstandingly able to withstand more loads than rubber because they are harder than rubber and yet more flexible than plastics. Their flexibility is accountable for their strength and remarkable ability to resist impact.
Abrasion Resistance
Polyurethanes are the perfect choice for applications against severe wear regardless of low temperature. For some decades now, they have been the most used materials for environments that are highly abrasive owing to their super ability to resist abrasion. No other form of elastomers, metals, and plastics has a better abrasion resistance than polyurethanes. Their abrasion resistance ability is rated to be 10 times better than what other materials can provide.
Oil and Chemical Resistance
Like their abrasion resistance ability, the properties of polyurethane materials are highly capable of resisting oil and chemicals. This enables them to maintain stability (with minimal swelling) in water or oil etc. If you are looking for elastomer materials to use in subsea, then polyurethanes should be your ideal choice.
Affordable manufacturing process
Productions such as prototypes as well as one time products or one-off parts are often manufactured using polyurethanes.
Polyurethane Resilience
Resilience is generally a product of hardness. Polyurethanes are the perfect choice for elastomer applications that can absorb shock. They have a high vibration frequency or outstanding ability for quick recovery. Their remarkable resilience ensures polyurethanes are very tough materials.
Please Contact us for further details or to answer your questions about cast urethane wheelchair wheels!