Urethane worm gears are cast from high-quality material that outperforms most OEM gears and other materials. Plan Tech's urethane worm gears are most popular in conveyor food processing plants as they are compact and can reduce or increase the rotate in a 90-degree design.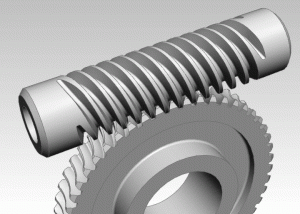 FDA dry use approved urethane is available at Plan Tech in any hardness for urethane worm gears. For normal operations, we specify 95A hardness urethane worm gears and they perform excellently. Cast from a material that is chemical resistant it is also still flexible enough to take an impact and return to its original size or adapt for any misalignment in the gearing due to debris yet rigid enough to have a long service life in the most demanding applications.  In special applications, Plan Tech has produced urethane worm gears to form and process bread and other foods.
As the urethane worm gear rotates the low section will cut off the bread or food to a predetermined length while also driving the conveyor assembly. We can hold a tight tolerance of +/-.005 on all of our machined parts for a precise mesh of gearing. The molded tooth sections can hold +/-.010 tolerance with inexpensive urethane tooling available.  Each of the urethane worm gears will be supplied with new bearings and inspection reports upon request. Plan Tech can also strip off any previously coated shafts and reprocess good "cores" for an inexpensive replacement OEM urethane worm gears.
Machining cast urethane parts require specialized equipment and training. Here at Plan Tech we utilize 3D CAD Design Software Solidworks and make all of our own molds in-house for speed, accuracy and precision. We control the entire process from design to manufacture. Custom mold making is at the very core of what we do. Our machine shop includes CNC Lathes, Mills and Grinders for machining cast urethane parts. We also have manual mills as well as a sheet metal and welding area. In addition, we have a Flow Water jet with 48×96 inch sheet capabilities and can cut a list of materials like Polyurethane, Steel, Stainless Steel, Aluminum, Carbon fiber, and most plastics.
Please Contact us for further details regarding urethane worm gears!