Waterjet cut urethane gaskets are manufactured by Plan Tech in our well-equipped in-house machine shop that houses one of the largest cast polyurethane facilities in the United States. And to meet the high level of accuracy which waterjet cut urethane gaskets demands, we make use of our customized Flow Waterjet 4′ x 8′ Integrated Flying Bridge waterjet cutting machine that is 100% efficient.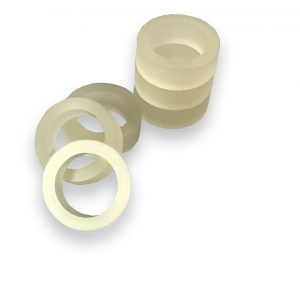 We utilize only the best of polyurethane materials from internationally renowned producers for the manufacture of our waterjet cut urethane gaskets to ensure they are of world-class-standard. As is the case with all our other urethane parts which are always in high demand, we utilize speed and accuracy to make sure we deliver in record timing without compromising quality.
Our waterjet cut polyurethane gaskets offer the type of performance ability and service life that is second to none in the industry. They provide remarkable resistance to wear, chemicals and abrasion. And their ability to maintain their performance ability in harsh environments where the waterjet cut urethane gaskets of other brands fail, is just fantastic. The best part is that; our team of engineers who rank among the best in the industry are capable of casting waterjet cut urethane gaskets in different shapes and durometers, which makes us the go-to company where all your waterjet cut urethane gaskets needs can be met.
Most custom cast urethane parts can be molded and shipped within just a couple of weeks. Oftentimes, they can arrive much faster. Producing urethane parts is pretty straightforward and can be done on a short timeline. If lead times are important, consider specifying cast urethane parts. No matter what your intended use is for the finished cast urethane products, they are sure to make your projects a lot easier and that much more refined. Custom made cast urethane parts are the way to go – no matter if you're an established business or somebody starting out.
Please Contact us for further details about Waterjet Cut Urethane Gaskets!