Wear pad urethane washers are one of the several urethane products that find application across a wide range of sectors. They are manufactured at Plan Tech with a great level of speed and precision, allowing us to meet high volume demands without compromising quality.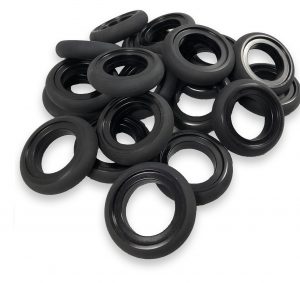 No matter the industry or application you require wear pad urethane washers for, you can be certain of the best quality when you order from Plan Tech. We boast over three decades' experience at manufacturing urethane products that meet international standards.
To ensure we do not compromise quality for quantity, our engineering/technical team who rank among the industries finest always apply their technical backgrounds with over 30 years experience during the production of our wear pad rubber washers.
Some of the advantages held by our wear pad urethane washers over those of other urethane fabricators include outstanding resistance to wear, chemicals, abrasion, and corrosion, etc.
No other cast polyurethane company in the United States and the world over boast a better state of the art in-house urethane casting production area and machine shop that is well equipped with sophisticated types of machinery than Plan Tech. It is, therefore, safe to say that we have all it takes to turn your imagination into world-class urethane products that help set you apart from your competitors. Polyurethane is very similar to a rubber or plastic. Unlike nylon or UHMW, urethane can be compounded to produce very soft parts, as low as 20A Durometer, or up to very hard, 75D Durometer. Polyurethane is ideal in high demand applications were normal rubber would fail. The directory of test methods for cast urethane parts that are specified by ASTM are (a specific test method could vary):
Tear Strength:  (ASTM D624) Tear resistance (tear strength) is a measure of how well a material can withstand the effects of tearing. It is a useful engineering measurement for a wide variety of materials by many different test methods.
Are you interested in Wear Pad Urethane Washers? Please Contact us so we can help solve your requirements and work with you on your specific application!