Wear-resistant urethane gaskets are made from urethane which is the toughest of all elastomeric materials and is the preferred material for gaskets due to its ultra-high strength and durability under pressure. Gaskets come in different designs, thicknesses and sizes; it is used to create a seal between two parts. Wear-resistant urethane gaskets stop dirt, gas, dust or fluid from leaking out of, or into the pieces it's joining. Wear-Resistant Urethane Gaskets can also be custom-designed to different patterns, thicknesses, and materials; they are manufactured depending on its application. Hence the wear resistant urethane gaskets are created to significantly reduce equipment downtime and maintenance costs.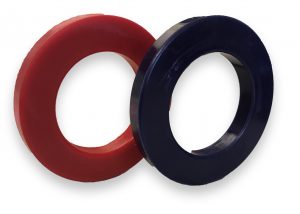 Advantages of Wear-Resistant Urethane Gaskets:
Abrasion Resistant
Highly flexible in a variety of temperatures
High load bearing capacity
Resistant to natural elements
Plan Tech manufactures custom wear-resistant urethane gaskets and other cast urethane parts such as:
Pump Impellors and Inlet liners
Conveyor belt scrapers
Wear strips
Sewage treatment plant wear shoes
Marine hatch cover seals
Salt truck spinners
Sprockets
Sheave liners
Hour glass rollers
Chute & Hopper liners
Truck bed liners
Dock bumpers
Linings for chutes and launders
We manufacture any form of wear-resistant urethane gaskets; all equipment and service we supply are fabricated from the best materials and produced to the highest quality and tolerances using the latest fabrication technology. Plan Tech also has an outstanding team of dedicated employees with exceptional talents designing and manufacturing urethane molded parts. We also are very proud of the "company we keep." Our customers include many Fortune 500 companies, most of whom have been customers for 20+ years. Their drive to become industry leaders has helped us do the same. Whether you are a start-up company or global leader, we can add value to your wear-resistant urethane gaskets and cast polyurethane products with our strong engineering support, urethane polymer experience and constant focus on meeting all delivery requirements. Our rapid prototyping capabilities have also received particularly positive feedback – we frequently go from "Print to Part" in 10-15 business days. Everything we manufacture is MADE IN THE USA!
Are you interested in cast Wear-Resistant Urethane Gaskets? Please Contact us so we can help solve your requirements!