Wire Guide Polyurethane Rollers are one of the numerous custom industrial products that we manufacture at Plan Tech. We manufacture all of our wire guide rollers from high-performance prepolymers with high standards which in turn reduce downtime and replacement costs.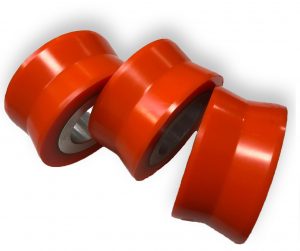 Plan Tech has over 30 years of specializing in the manufacturing of precision cut urethane wire guide rollers for a wide range of industries and applications. We utilize the tough characteristic nature of urethane which outperforms plastic, rubber, and steel in its capacity to resist harsh environmental factors such as abrasion, corrosion, heat or high temperature, oil, grease, solvent, acid and several other harsh chemicals.
Urethane has excellent resistance to cracking when under repeated flex and wear. These diverse properties of polyurethane enable us to manufacture precision cut wire guide polyurethane rollers that do not just meet international standards but also the specification of our clients.
Plan Tech continues to utilize the strength of urethane to produce high-end design and durable product, making it the choicest in the market. When it comes down to custom-made wire guide polyurethane rollers, customers and engineers can always count on us to meet their requirements for wire guide rollers with perfection regardless of the specific requirements of the application. Whether you are a start up company or global leader, we can add value to your products with our strong engineering support, urethane polymer experience and constant focus on meeting all delivery requirements. Our rapid prototyping capabilities have also received particularly positive feedback – we frequently go from "Print to Part" in 10-15 business days! Everything we manufacture is MADE IN THE USA and our production capabilities include:
In-house custom mold manufacture
Waterjet cut urethane parts
Automated adhesive application for high strength urethane bonding to metal and non-metallic substrates
Open cast, rotational, compression and liquid injection molding
High speed automated and manual finishing equipment
Post-secondary assembly
World class metal preparation
On-site testing
Full in-house machine shop with multiple CNC mills, lathes, grinders, welding and sheet metal fabrication
Are you interested in cast Wire Guide Polyurethane Rollers? Please Contact us so we can help solve your requirements and work with you on your specific application!