Benefits of Urethane Wheels over Rubber Wheels
Over a hundred years ago there were few choices to choose from when it came to wheel materials. If you wanted hard wheels, metal was the right material. If you wanted soft wheels, rubber was the popular choice and if you wanted something in between, then wood was the go-to option. But over the years, all that began to change and today, there are several options one can choose from depending on your application and environment.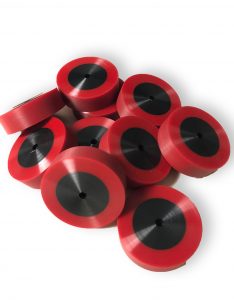 When it comes to urethane wheels and rubber wheels they each have specific strengths and weaknesses, dependent on their own unique properties although it is evident that urethane wheels have limited weaknesses and more benefits.
The most prominent benefit of rubber wheels is that they are soft and quiet in operation – but this is when it's compared to metal. Urethane wheels are also quiet in operation and can be made soft too. One of the benefits of urethane wheels over rubber wheels is that its load capacity greatly exceeds that of rubber wheels. In other words, rubber wheels must be made larger than a standard urethane wheel in order to handle greater capacities.
Although they both offer great floor protection, urethane wheels move more freely over obstructions and rough floors. Urethane wheels also provide smooth, shock resistant operation for breakable products and delicate instruments. Urethane wheels can be used for both indoor and outdoor applications where product protection is a priority. They are best for use on carts and platform trucks for industrial commercial and institutional applications which requires a cushioned ride.
Other benefits of Urethane Wheels over Rubber Wheels are its ability to withstand extreme environmental conditions, resist wear, harsh chemicals and that they do not crack.
Are you interested in Polyurethane Wheels? Please Contact us so we can help solve your requirements and work with you on your specific application!