Case Study: Manufacturing Urethane Sprockets
When it comes to manufacturing urethane sprockets, there is one aspect that is more important than anything else: abrasion resistance. That's what we keep in mind when we develop and create urethane sprockets. We use tight tolerance urethane sprockets that really make a dramatic difference in the manufacturing process in terms of productivity and longevity. One of the keys to manufacturing these tight tolerance urethane sprockets is using anticipated shrink vs wall thickness and shape to produce tight tolerance technique when modeling the sprockets.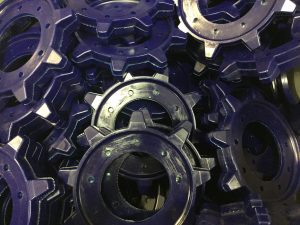 What Are the Benefits of Tight Tolerance Urethane Sprockets?
Prior to the new tight tolerance technique employed when creating urethane sprockets, many sprockets would break down easily due to the teeth wearing down. However, a new, innovative approach was taken where close tolerance is used in molding, followed by machines that are incredibly precise. That has resulted in tight tolerance urethane sprockets that are much more resistant to abrasion.
Now, the new model of right tolerance urethane sprockets has been able to stand up to wear and tear in the field and is proven to be much more resistant to breaking down. If you're looking for a sprocket that runs smooth and is going to last you for years to come, you want to select a tight tolerance urethane sprocket.
What is the Benefit of using Urethane for Sprockets?
Certain materials work best for certain situations – fortunately for urethane, it tends to be the best material in most cases. Urethane is an incredibly versatile material that can withstand significant pressure and wear and tear, while also being soft and shock absorbent if desired. Urethane is fully customizable to fit your needs.
When we look at other materials, there just isn't as wide of a range when it comes to durability as there are for tight tolerance urethane sprockets. Steel had been the industry standard prior, but even steel is no match compared to urethane due to its longevity and resistance to wear and tear. There are several other types of metals and materials out there to choose from, but here is no material that compares to urethane for sprockets.
Please Contact us for further details regarding your urethane sprockets application!