Guide to Choosing the Best Polyurethane Material
Plan Tech for over 30 years has produced millions of parts for numerous applications. Frequently we will be presented with a problem for a custom application or better performance out of OEM parts. Plan Tech can match OEM parts to print or from a sample part out of high-quality urethane from world leading chemical companies.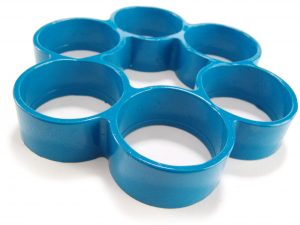 There are two main types of urethane resins polyester and polyether. For the most part polyether material is incredibly tough and a go-to choice for most applications. When abuse or wear items are presented to Plan Tech we will learn exactly what the application is and find the best material we feel suited for excellent product performance and service life.
Plan Tech exclusives use high quality cured agents like 4,4′-Methylenebis(2-chloroaniline) (MOCA, MBOCA, bisamine) with a decades-old proven performance that ensures the highest level of urethane performance. Plan Tech also has a variety of additives in addition to FDA requirements.
Property

Best performance

Least Appropriate

Abrasion Resistance: Sliding

Polyester with 5% Armgorlide 95A-75D

Low Cost Polyether

Abrasion Resistance: Heavy Load Sliding

Polyester with 2% Moly oil 95A-75D

Low-Cost Polyether

Low Compression Set

TDI- Both ester and ethers perform well when plasticised down more than 20%.

MDI

High Compression Set

TDI- Both ester and ethers perform well with natural prepolymer.

MDI

Heat Aging

Polyester

Low-Cost Polyether

Bushing

Polyether

95A-75D w\ 3% moly oil or armorglide

Polyester

Heat Buildup

Polyether

Polyester

High-Temperature Properties

TDI

MDI

Hydrolysis (Reaction with Water) Resistance

Polyether

Polyester

Low-Temperature Properties

Polyether

TDI Polyester

Oil Resistance

Polyester

Polyether

High Rebound

Polyether

80A – 95A

Polyester

Low Rebound

Polyester

30A-70A

Polyester

Tear Strength

Polyester

95A

Low-Cost Polyether

Tensile (Tension) Strength

Polyester

95A

Polyether