Industries That Use Polyurethane Parts
Industries That Use Polyurethane Parts
I don't know about you, but I'm sure there are no materials out there better than polyurethane parts. So why shouldn't every industry be making use of them?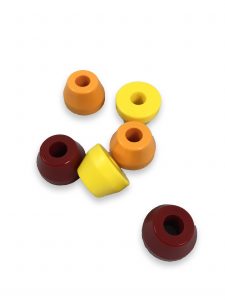 Not only can the parts of polyurethane be used in the manufacture of different products, but polyurethane is extremely capable of resisting abrasion, oil & chemicals, as well as an impressive display of resilience, etc.
Clearly, polyurethane parts and components are high up the table in comparison to other materials in terms of coping with difficult conditions. Little wonder a vast majority of industries make use of this material.
Just a few of the industries benefiting from the high performance of polyurethane parts:
Automotive Industry
Are you aware your car wouldn't be that comfortable if it weren't for polyurethane parts? The parts of this material are utilized extensively in the production of your car. Polyurethane parts are applied in the production of the foam that makes your car seat comfortable to sit on. The parts are also used in producing the interior headliner of your car's roof section, urethane bumpers, urethane seals etc. So it is safe to say that, without urethane parts, your car wouldn't be what it is.
Mining and Quarrying
As far as the mining industry goes, the parts of polyurethane are applied in so many areas like the urethane conveyor belt scrapers, urethane seals, pipelining, hydrocyclones, agitators, etc. The reason is that of their impressive ability to resist abrasion and their high resilience to tough conditions.
Paper industry
Polyurethane parts are very important to the paper market. They are used in the manufacture of different paper products including lump-breaker rolls, press rolls, reel rolls, etc.
Construction Industry
It can be said that the construction industry is one of the biggest beneficiaries of urethane parts. The custom urethane parts are applied in the production of hammers, power tools, mallets (a type of hammer that is often made of rubber) and much more. The characteristics of these urethane parts that make them highly useful in this industry are resistant to abrasion, tear, oil, and impact, etc.
Highway and Pavement Maintenance
Urethane molded parts are widely used across the highway and pavement industries. They are applied in the production of paving machinery, concrete mixers, urethane salt spinners, wheel chocks, trackpads, urethane snowplow blades, etc. Their high performance in resisting temperature extremity, wear and tear, abrasion, etc., make these polyurethane parts very important to this market.
Agricultural Sector
Another industry benefiting from polyurethane parts is the agricultural market where urethane parts are applied in the production of high-quality products like cotton doffers, elevator buckets, and urethane crane wheels.
When designing a new component or part please consider Polyurethane!