Material Handling Systems Utilizing Cast Urethane Parts
Utilizing lightweight, castable polyurethane rollers, wheels, bumpers and other custom urethane parts for material handling systems does not just guarantee lower tooling costs it also provides excellent wear resulting in reduced downtime for repairs and reduced maintenance costs. With lightweight, castable urethane parts there is no production interruption caused by the cracking of thermoplastic parts.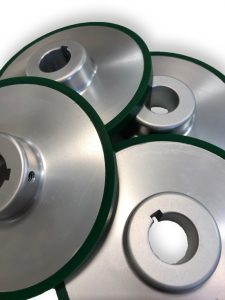 Previously utilized thermoplastics experience high amount of vibration which caused cracking and also affected sensitive weight readings during the production process with material handling systems – resulting in inaccurate quantities of parts and increased downtime. Many engineers and designers turn to polyurethane parts when designing and contructing material handling systems.
Lightweight, castable urethane rollers, wheels, bumpers and parts designed by Plan Tech cannot only withstand vibration and retained its original form, but it also has an extended service life. Additionally, our customer deisnged urethane parts offer a significantly quieter operation process which is achieved due to urethane's unique noise abatement properties.
It is imperative to know that product engineers prefer polyurethane components. Material handling production systems utilizing polyurethane parts have proven to stand the test of time. Produced, designed and furnished with our state of the art equipment to meet the challenges of any application, the Plan Tech team of engineers guarantees the very best lightweight, castable urethane parts and components.
So, whether you are designing a new material handling of equipment or need to replace an existing one, Plan Tech is the go-to cast polyurethane manufacturer to turn to!