Molded Polyurethane Parts – Abrasion and Wear Resistant!
Molded polyurethane parts are designed by our engineers from our in-house machine shop from an AutoCAD. We apply different molding design operations utilizing compression molding and rotational force for the manufacture of our molded polyurethane parts. Opencast molds are the most common and are typically made from aluminum that consists of many pieces and parts; this ensures the finished product, are high performance and tight tolerance molded polyurethane parts.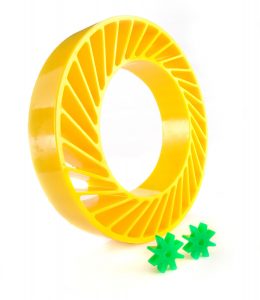 To guarantee performance, we utilize only world-class polyurethane materials from globally recognized chemical producers. And we are renowned for being the industry's biggest manufacturers of first-grade molded polyurethane parts. Our molded polyurethane parts include:
                       Molded Polyurethane Parts
Urethane Mounting Blocks: these parts can be cast into different sizes which makes them ideal for any urethane parts application. They are capable of absorbing noise or lessening the harsh slamming of equipment.
Urethane Stop Cushions: Urethane stop cushions can be cast into any profile or size, and we have them available in a 60A-90A durometer.
Urethane Pipe Vibration Isolators: Urethane Pipe Vibration Isolators are cast in all different shapes and sizes for custom applications. They help with the control of vibration in different machinery which ranges in size from large to the control boards of small computers.
Tight Tolerance Molded Polyurethane Parts
Molly Filled Urethane: Moly filled urethane for high friction applications are ideal for long service life. Plan Tech for the last 30+ years has been dedicated to learning new and special applications of existing or replacement OEM parts. Unfilled urethane has excellent physical properties but in high friction or moving parts for the most part urethane is not recommended as it will have a high surface friction.
Polyurethane Screw Shoes: High volume polyurethane screw shoes are molded at Plan Tech to be able to produce thousands of polyurethane screw shoes each month. Plan Tech also has water jet cutting services for screw shoes that would not easily be molded or if tight tolerances are needed. A variety of additives may be incorporated to increase the physical properties for more challenging applications like processing rocks.
Polyurethane Drive Bands: Often times Plan Tech will over-mold a tube and fully machine each of the polyurethane drive bands to ensure perfect fitment every time. Special profiles may also be molded or machined. Plan Tech blends all of our material in our batch department allowing us to modify our material to suit any special application. Polyurethane will outperform rubber 3:1 and is easily molded to any size.
Made In USA Molded Polyurethane Parts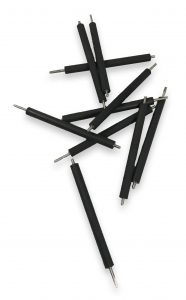 We stock a large variety of special additives which we add to improve the physical properties of our molded polyurethane parts. All of our molded polyurethane parts possess the ability to return to their original shape after absorbing high impact, and they retain this ability even after they have repeatedly been abused for years. There are many advantages that urethane has vs metal and plastic with our custom molded polyurethane parts! Tight tolerance molded polyurethane parts have been manufactured at Plan Tech for over 30 years!
Machining cast urethane parts require specialized equipment and training. Here at Plan Tech we utilize 3D CAD Design Software Solidworks and make all of our own molds in-house for speed, accuracy and precision. We control the entire process from design to manufacture. Custom mold making is at the very core of what we do. We create complex molds for our in-house use as well as many of the components that are molded into customer products. Molds are machined from aluminum or tool steel depending upon tool life requirements. The inserts and cores that we manufacture for molded polyurethane parts are made from a wide variety of metals and plastics including UHMW PE, ABS, aluminum and steel.
Please Contact us for further details regarding custom molded polyurethane parts!