Polyurethane Castor Wheels vs Rubber Castor Wheels
The Polyurethane castors and the Rubber castors are commonly used in the material handling industry and are often found in about 80% of all industrial applications.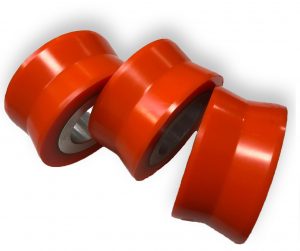 Both types of cast wheels are used interchangeably; however, there are differences in their properties which gives the polyurethane castor wheel an edge over the rubber castor wheel.
These differences in their properties include:
Abrasion- resistant: when compared to rubber, plastics, and metal wheels, polyurethane remains longer with a down cut in maintenance.
Floor Protection: polyurethane has the power to deflect and create a larger footprint than the rubber castor wheels.
Heat and cold resistant: Polyurethane castor wheels can be used to 100oC and at -20oC.
Load bearing capacity: Polyurethane castor wheels have a higher load-bearing capacity than Rubber castor wheel this explains why it is an ideal material for load wheels, metal-forming pads, expansion joints and heavy duty couplings.
Other properties include Semi-conductivity, high load bearing, ozone –resistant / oxygen-resistant, oil and solvent resistant and lots more.
Plan Tech discovered over the years that distributors, clients and or end users get perplexed on making a choice between using polyurethane castor wheel and rubber castor wheel, however engineers choose polyurethane castor wheels as replacements for rubber castor wheels because they are highly elastic, tough and are a very durable wheel. We provide world-class polyurethane wheels that are cost-effective in production and are very easy to maintain with high resistance capacity.