Recovering Urethane Rollers
Recovering urethane rollers is one of the main services Plan Tech provides for many industries requiring a covered roller. Urethane rollers typically consist of a steel core that will be stripped of any previous coating before being individually processed in our clean room for metal preparation. Taking this extra step produces a bond strength unlike any other urethane roller on the market. Our high strength bonding adhesive that is applied to any type of metal surface after being media blasted will ensure a quality bond that will never delaminate.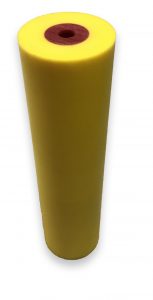 Urethane is a great choice when weight out the options available for re-covering exciting or new rollers. Custom cast at Plan Tech in high or low volume recovered urethane rollers are available in any color and lengths under 4' feet and less than 10'' diameter. While most polyurethane bearings are covered in a 95A hardness for a smooth and quiet operation any hardness or color is available.
Plan Tech will learn each new application and help suggest if any additives are necessary. By far our most common additive is called Armoglide which will add lubricity to the urethane material as it wears keeping the roller clean and product moving easily. Anti static and FDA applications are also no problem!