Tips On How to Specify Urethane Idler Rollers
Polyurethane is a popular choice when searching for urethane idler rollers. That's because urethane coated idler rollers have some very dynamic properties, are resistant to wear and an excellent ability to withstand friction. Not to mention the fact that urethane idler rollers are able to operate optimally in a variety of conditions – from cold and freezing temperatures to hot and humid. Before you make your decision, it's important to understand the difference of materials when it comes to idler rollers. Urethane coated idler rollers should be on the top list of your consideration for the following reasons: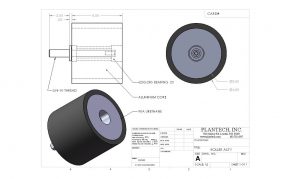 1. Urethane Idler Rollers are Great for a Variety of Torque Levels and Loads
Assessing the amount of weight that will be applied and the level of torque to urethane idler wheels is critical to ensuring that the urethane idler wheel stands up to wear and tear and lasts for many years to come. Fortunately, it's relatively easy to calculate. Once you have the anticipated torque level and load weight, leave the rest to us. We will come up with an excellent urethane idler rollers that is customized in size to meet the demands of your intended use.
2. Superior Speed and Duty Cycle
Another critical area needed to determine which type and size of urethane idler rollers are best for you: The expected speed and duty cycle. A properly selected urethane idler roller will not become warm when operating, leading to roller failure. The problem with to avoid in applications is that it generates heat at higher speeds. The higher the urethane idler roller travels at, the lower the load weight can be. Fortunately, we are able to calculate which urethane idler roller would be best for you with the given speed and average time of use given the application.
3. Urethane Idler Rollers Operate Great In Any Environment
No matter where you are in the world and whichever climate you are in, chances are we can elevate a urethane idler rollers perfectly suitable to your environment. Some types of urethane idler rollers perform better in wet, moist climates while other perform better in dry. Some types of urethane is better able to stand up to being exposed to chemicals, while others aren't. We can asses your anticipated conditions and come up with something specific to your situation.
4. Any Hardness or Color Urethane Idler Rollers
Custom applications sometimes require changing the hardness of the urethane also know as the durometer. Most commonly Urethane idler rollers are supplied in a 95A duro. This hardness does extremely well is conveyor belt systems and common rolling applications. Being of a medium hard duro allows the urethane to absorb most of the noise that would be associated with rolling wheels. Drive roller or Feed roller urethane idler applications vary upon the material the wheel will be processing and typically provide the most traction around 50A to 70A. Also, any color is available to easy determined different sizes or different hardness for any application.
Selecting the right urethane idler rollers requires a bit of calculation and math – but once that's all calculated, you'll have a product that's best for your environment. We are able to help you select the best, customized and long-lasting urethane idler rollers no matter your environment.