Typical Polyurethane Applications
Polyurethane is so important that it has constituted a significant part of our day to day life. Look around, and you will notice that "they" are applied in so many ways in almost all the available industries or fields from footwear, furniture, agricultural sectors to refrigerators, construction and automotive industries. This high-performance material come in different levels of hardness and textures like flexible & soft as rubber, as well as rigid & hard like plastic. The following are a few examples of products that use polyurethanes in their production.
Customized Urethane Parts for your Application!
At Plan Tech, we can transform your idea of a product into reality using cast polyurethane parts. If you can think it, our experts can design build and manufacture it! Some typical products that we manufacture are:
Wheels & Rollers
Polyurethane parts come in different levels of hardness (durometers), and they find many applications in the production of wheels and rollers. You can depend on us with the task of producing high quality or high-performance urethane wheels/rollers that are dual or single durometers.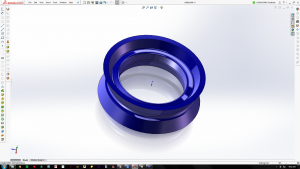 Polyurethane Gears
Polyurethanes can be applied in the manufacture of high-performance power transmission like cogs, idlers, sprockets, etc.
Polyurethane Bumpers
You can be sure of the production of high-performance bumpers at Plan Tech.  We apply over 3 decades of experience manufacturing bumpers just the way your application demands. It doesn't matter if you require bumpers that have high or low vibration & rebound or abrasion resistance or noise reduction ability, our experts can meet your desired specification.
The above products are only a few examples of cast polyurethane parts that we routinely manufacture. For more information, please Contact us for further details!