Waterjet Cut Urethane Parts – Waterjet Urethane Sheets!
Waterjet cut urethane parts are just one of the many cast urethane services that Plan Tech provides. We utilize a "state of the art" Flow Waterjet 4′ x 8′ Integrated Flying Bridge waterjet cutting machine. The dynamic head virtually eliminates the taper normally associated with waterje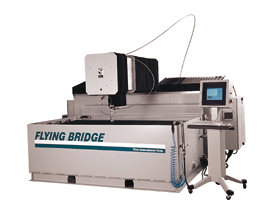 t cut urethane parts while improving cutting speeds, part accuracy and tolerances in cutting flat stock materials.
Our capabilities include:
Taper elimination by Active Tolerance Control
Versatility – cut with water only or abrasive
Secondary finishing elimination
Part tolerance and geometry improvement
True part stacking ability with consistent tolerance layer to layer
Vacuum assist technology for carbon fiber and other laminates
Some of the materials we can cut include:
Polyurethane, all durometers
Polyurethane laminates of metallic and non-metallics
Reinforced polyurethanes
Armorglide filled urethane
Steel, Stainless, Aluminum, Brass, Titanium, Copper
Rubber, Silicone
Silicone Foam, Foam Rubber, Polyurethane Foam
UHMW-PE, HDPE, LDPE
PEEK, Acrylic, Nylon, Delrin, PTFE/Teflon, ABS, Acetal
Carbon Fiber, Kevlar, Fiberglass
Call for information if the material you seek is not included on the list.  There are so many possibilities; Cast urethanes with fabric reinforcement, bonded metallic layers or UHMW. Waterjet cut urethane parts can make quick work of the dissimilar materials that make conventional machining difficult if not impossible. For example, rigid soft durometers with reduced elongation and greater tensile strengths or metallic parts with integrated vibration damping or high rebound properties. Waterjet cut urethane parts are not the only way to cut urethanes, but it is the best way that we have found!
Whether you are a start-up company or global leader, we can add value to your custom urethane parts with our strong engineering support, material selection expertise and constant focus on meeting all delivery requirements. Our rapid prototyping capabilities have also received particularly positive feedback. We frequently go from "Print to Part" in 10-15 business days. This capability allows our customers to rapidly develop new products and meet the ever-increasing requirements for speed in the marketplace.
Waterjet Cut Urethane Parts
Please Contact us for further details about waterjet cut urethane parts!