Why Does The Polyurethane Formulation Matter?
Over the years we have grown to understand the importance of formulation. This is why we always request for your industry and application during the consultation – knowing your application, industry, and environment will help us discern the best formulation for your product.
To further explain this, let's take a look at the most common polyols which are polyester or polyether.
Polyesters offer more:
• Tear Resistance
• Abrasion resistance
• Solvent, oil, and chemical resistance
Polyethers offer more:
• Great rebound ability
• Low-temperature flexibility
• Better performance in high-speed applications
Polyol is blended with an isocyanate to create a pre-polymer. Two of the most common isocyanates are TDI and MDI, but when it comes to specialty applications, several others are available. TDI delivers excellent properties at high temperatures while MDI performs best at low temperatures.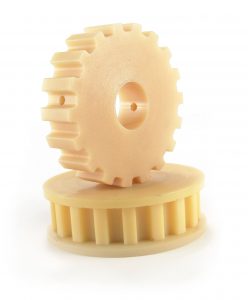 The pre-polymers are then cross-linked with a curative. Dozens of chemicals can be used as curatives for polyurethanes, and each gives different physical properties to the finished product. Sometimes based on specific requirements curatives can be mixed, giving us an unlimited variety of formulations. It is important to note that physical properties can be affected by the ratio of curative to pre-polymer (stoichiometry).
Lastly, for properties such as coefficient of friction, tear/wear resistance, and electrical conductivity specialty additives can be incorporated. At Plan Tech, we hand weigh and mix every batch, making us in total control of the formulation which in turn allows us to meet your requirements whatever they may be.
Are you interested in custom Polyurethane Parts? Please Contact us so we can help solve your requirements and work with you on your specific application!